Guess that all kind of depends on which end of the chain (or whip) you're coaching to move first...bottom->up or top->down.
I agree.
The shoulder movement is initially resisted ... and that resistance is ultimately released.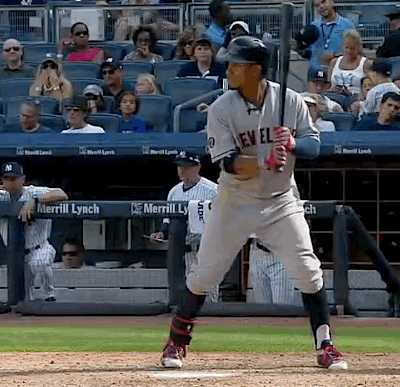 I hear people speak of "
keeping the shoulders closed
" ... and yet we often see MLB swings where their numbers are clearly visible from the opposite batter's box. Check out the #12 in the swing clip above. Their shoulders are clearly opened ... but I get that initially the opening is resisted ... the intent is not to power the swing directly by having the shoulders open, but indirectly in a manner that has them becoming opened up much more quickly than if they initiated the swing by trying to open up the shoulders with the shoulders.
I've seen many kids directed to "
keep the shoulders closed
" ... and to resort to pushing. It's an easy solution to satisfy a barking coach/instructor/parent.
The reality is that the shoulders do become opened ... and the opening of the shoulders pulls on the lead-arm/barrel ... and the faster this occurs, the faster the swing.